Birdie's solution allows you to go from an overview of your category and market to a deep dive into any specific attributes of your products, services, brand, and other relevant business aspects, giving you the full view you need to do your work better than ever.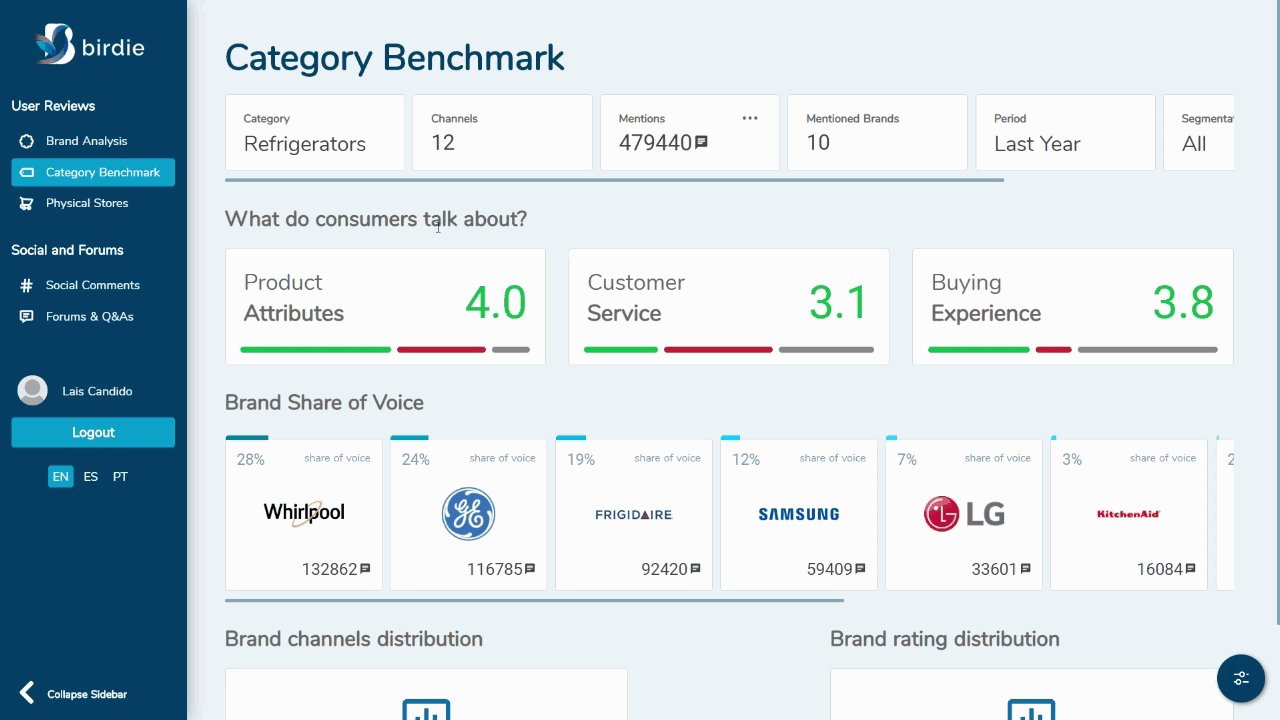 Get an automatic, daily updated share of voice for each of your categories and brands. Discover new players in the space, predict your market share, compare your brand's engagement with your competitors, and more.
Insights & Recommendations In One Click
Birdie automatically generates insights and shows trending attributes for products, attributes, and other elements, suggesting changes that can be relevant to campaigns, products, and more.
Satisfaction with Product Attributes
Understand the attributes of a specific product or category that drive consumer satisfaction or dissatisfaction and get access to snippets from different sources to understand details of what consumers are saying.
Reviews Categorization & Score by Business Aspect
View all the conversations already organized according to Product, Buying Experience, and Customer Service, creating a real-time traffic light of your whole operation - and get the insights to always stay ahead.
Brand Channel Distribution
Have a complete view of the channels that are contributing the most to your - and your competitors' - frequency, rating, and sentiment month over month, and identify opportunities or risks to manage.
Let Birdie send you notifications about the most important changes and opportunities that you should take a look at, and never miss an insight again. Receive automatically generated reports to share with anyone you need.
Instantly discover which aspects are appearing as strengths and weaknesses for your products and services, discovering opportunities to improve or to explore from a broad to a product-specific perspective.
Trendlines both for frequency and sentiment
View daily, weekly, or monthly trendlines for both the number of times a specific attribute is mentioned and the sentiment that is related to it, and connect this to other data to easily discover what can be happening.
Filters and categorization by SKU, price tiers, etc
Create cohorts and visualize the details of consumer's perception for different price tiers, product lines or types, and even for a specific SKU.
Attribute grouping according to more relevant aspects
Discover what are the main product attributes consumers value in a specific category and what is driving satisfaction or dissatisfaction in easy to navigate, customizable groups.
Persona identification based on behavior and context
Discover new buying personas and jobs-to-be-done based on how consumers are using your products and in which context, and use it to personalize your messages, improve your current products and launch new ones.
Consumer Behavior in Key Physical Channels
Learn what consumers are experiencing in key sales channels and identify untapped promotional opportunities to improve customer experience -- as detailed as by address.
Crises and Trends Prediction Alerts
Discover product attributes or other aspects in the consumer's experience that will become trends in the future or that can trigger crises that you can avoid and manage with anticipation. Never put too much or too little energy in a problem anymore.
Full view of the customer journey footprint
Have a full view of the consumer journey, from awareness to decision making, learning what questions consumers ask and how they engage in tastemakers channels like Reddit and Quora.
Connect any relevant source of consumer feedback to Birdie and let us structure the data for even more relevant insights. Send it back to your other tools to automate the generation of campaigns or ticket creation, among others.
"When I think about most customer insights tools I think about "what" happened "where", to "whom" and most critically "why." Until recently I would not ever know the why unless I commissioned a survey, which takes a month or two to do and at great cost. Birdie from the start gets to the "why" by analyzing organic consumer sentiments and summarizing consumers' attitudes towards a brand on the marketing 4Ps in a way that consumers think, feel, and talk. This gives me both insights and hard data to know exactly where to improve our advertising, trade promotions, and service channels"
David Newman
Former Global VP Customer Insights, PepsiCo
"Birdie helped us identify the main personas, jobs to be done, and valued aspects in the buying experience - pre and post-COVID - at our key retail partners 65% faster than other providers and in a much more detailed manner."
Ana Laura Conti
Market Intelligence, P&G
"Birdie helped us review our current buying personas and allowed us to instantly discover new and untapped ones from the enormous amount of consumer data we collected. With their platform, Birdie allowed us to refine the messaging and positioning for some of our products, which significantly improved our campaigns' conversion rates,"
Jairo Ramalho
Sr. Ecommerce and Data-Driven Marketing Manager for Samsung Latin America.
Book a meeting with us and discover what consumers think about your brand, products, and competitors